Himalayan Academy
Himalayan Academy, founded by Satguru Sivaya Subramuniyaswami in 1957, is the educational and publishing arm of Kauai's Hindu Monastery. Its mission is to share the teachings of Sanatana Dharma, as a public service, with Hindus and seekers worldwide. In addition to publishing the Master Course trilogy—Dancing with Siva, Living with Siva and Merging with Siva, which together comprise 50 years of Gurudeva's teachings—it accomplishes this goal through its many other books and pamphlets, its award-winning international quarterly magazine Hinduism Today, its extensive website, where all its publications are available to read or download for free, and its various study aids.
Satguru Sivaya Subramuniyaswami
– Founding Guru Mahasannidhanam of Kauai Aadheenam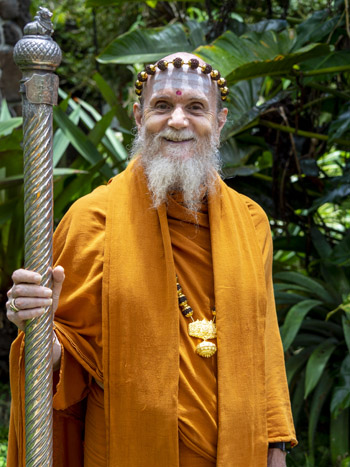 Satguru Bodhinatha Veylanswami
– Mahasannidhanam of Kauai Aadheenam and spiritual head of Saiva Siddhanta Church and Himalayan Academy
Through home-study lessons, learning videos, mobile apps and children's books, Himalayan Academy offers guided study of traditional Saiva Siddhanta metaphysics, yoga and meditation practices and spiritual lifestyle. The publications and other resources, many of which are applicable to all denominations of Hinduism, are freely offered for use by all Hindu communities, with the aim of encouraging and empowering them to foster and train individuals as teachers, public speakers and in other educational outreach capacities.
Many or most Hindu monastic orders perform outstanding public service, such as feeding the poor or running schools, hospitals or orphanages. Gurudeva ordained that the public-service focus of his Saiva Siddhanta Yoga Order would be education and the strengthening of Hindu solidarity worldwide. He likened the Sanatana Dharma to a great banyan tree, whose every branch sends roots deep into Mother Earth and thus strengthens the entire tree. Thus the aim of Hinduism Today, Himalayan Academy's flagship magazine, is to support, encourage and strengthen all traditional Hindu lineages—seldom telling our own story, but focusing rather on the people, events, philosophy, culture and traditions of the broader Hindu world. With all its aesthetic, full-color graphics and you-won't-find-this-anywhere-else features, Hinduism Today is available not only in print but also in a free digital edition and a mobile app, replete with video featuring Satguru Bodhinatha Veylanswami reading his Publisher's Desk column.
Partially hidden in the monastery's luxuriant greenery fifty yards from Kadavul Temple is the Academy's high-tech media workshop, where dedicated swamis and younger monks use state-of-the-art publishing to craft our books, courses, videos, communications and websites. In their hand-spun cotton robes, each monk works at his Mac—writing, editing, designing, and directing a skilled international cadre of journalists, artists and photographers who help create Hinduism Today. Publishing this journal is a joyful, inspired work—a labor of love distributed to 62 nations and treasured by readers around the globe. Not merely a source of news, the magazine is a forum of spiritual sustenance and timeless wisdom, a lifeline of dharma, a family album proudly chronicling 21st-century expressions of the world's oldest faith. Since 1979, Hinduism Today has provided a candid inside view of the Hindu way of life, clearly articulating Hindu culture and philosophy in modern English. The magazine has been instrumental in dispelling myths and misinformation about Hinduism while providing news about all sects and lineages to strengthen Hindu solidarity worldwide.
Himalayan Academy is a 501 (c)3 nonprofit run by the monks in Hawaii. All contributions are tax-deductible in the United States.
Himalayan Academy (also dba "Himalayan Academy Publications") 107 Kaholalele Road Kapaa, HI 96746 US donors may claim a tax deduction for donations to Himalayan Academy. Federal Tax ID: 23-7062033 Dun and Bradstreet ID: 93-030-3201
This Sanskrit Chanting Guide:
Copyright, Himalayan Academy, first edition 2021. Created by Satguru Bodhinatha Veylanswami; co-written by Sanskrit scholar Adaityananda Sarasvati (Adam Welch), with contributions by Ekatmananda Sarasvati (Robert Rogers)